According to the United Nations Children"s Fund (UNICEF), Nigeria's 40 million women of reproductive age (15 to 49) face a disproportionately high number of birth-related health issues.
Per the World Health Organization (WHO), sub-Saharan Africa has the highest neonatal mortality rate in the world (27 deaths per 1,000 live births), accounting for 43% of global newborn deaths.
Driving it home, over 7 million babies are born in Nigeria yearly, but about 262,000 die at birth. 
Meanwhile, WHO discloses that a Nigerian woman has a 1 in 22 lifetime risk of dying during pregnancy, childbirth, or postpartum/post-abortion, compared to 1 in 4,900 in developed countries.
This is because many pregnant women in Nigeria either can't afford healthcare or do not receive adequate health care due to a lack of services in their community. 
Also, cultural factors, a lack of education, and poverty can influence their healthcare choices.
Consequently, Kemi Olawoye (Chief Executive Officer) and Adeloye Olanrewaju (Chief Product Marketer) founded Babymigo to reduce maternal and neonatal mortality by providing resources and information for pregnant women and mothers. 
How it all started
Olanrewaju studied physiology at Ladoke Akintola University of Technology (LAUTECH), Nigeria. Before graduating, he started working as a product developer. He now has over ten years of experience.
After school, he worked with pregnant women and saw their challenges, including a lack of community support, access to healthcare professionals, and inaccurate information. 
Olawoye, on the other hand, studied physiotherapy at the College of Medicine, University of Lagos. After graduating in 2014, she worked in the hospital, where she ensured mothers got the exercise and rest they needed.
"We had a lot of mums who didn't know about the several medical conditions that exist. And I knew that if they had the right information even while pregnant, it would've helped them during and after pregnancy. So my co-founder and I met in 2016, shared ideas, and played around with the idea," she explains.
They began developing the product in 2017 and launched it in 2020.
Olawoye has over seven years of experience in business development, marketing, and communications. 
"We felt we had unique traits and experiences to bring on board," she says.
Making motherhood easier with several product offerings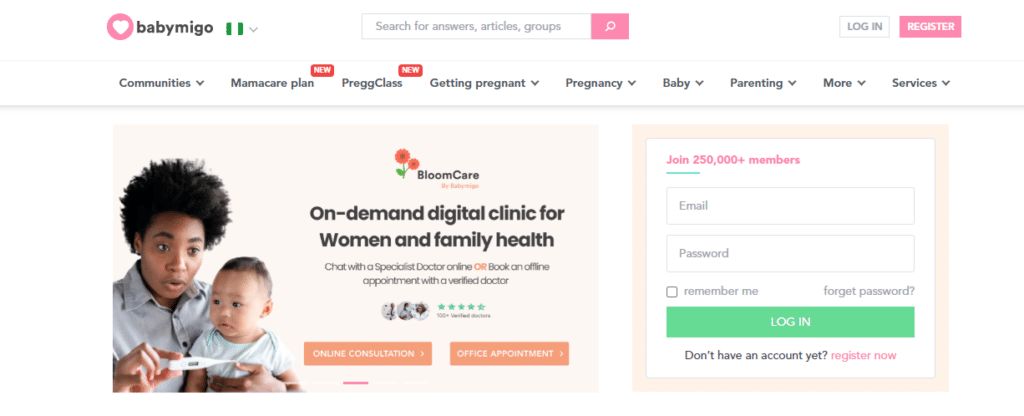 Babymigo is a web-based platform that claims to reduce maternal and child mortality in sub-Saharan Africa, starting with Nigeria, by providing expert-led information, tools, and resources via the community-led platform.
The platform works with women at various stages of their pregnancy and parenting journeys to empower, equip, and provide them with tools and resources that improve maternal and child health outcomes.
When you sign up, it asks where you are in your parenting journey: pregnant, trying to conceive, or already a parent.
"From an information standpoint, we recognise several unique cultural challenges pregnant women and parents face on the African continent. So, our resources, tools, and information are specific and tailored for our Nigerian community. 
"We also ensure that our information is expert-led to dispel myths about babies and pregnant women. Several culturally written myths are not medically verified. So, all the articles and materials we post on our platform are expert-verified," says Olawoye.
Mothers can benefit from the platform's tools, such as the Immunisation Calendar, which they can use to discover when their child needs vaccinations and immunisations.
There is also an Ovulation Calculator, which is very useful for women trying to conceive.
Mothers can also use the platform to ask questions and receive responses from other mothers dealing with similar issues, with experts available to validate the information they receive.
Gynaecologists, paediatricians, midwives, nutritionists, content creators, and social media managers make up the company's healthcare professionals.
Furthermore, Babymigo offers hyperlocal support services. 
Users can access over 20 community groups based on their interests, filter for specific discussions, and search for users or mothers within a particular age group or location.
Its goal is to make motherhood easier by offering several products, including Bloomcare, a digital family and women's health clinic.
It also offers MamaCare, a maternity insurance care plan. Babymigo partners with over 120 hospitals in Nigeria to provide subsidised childbirth and childcare services to mothers and their children until they turn one.
It provides PreggClass, a digital programme for pregnant women, to assist them with their hospital and mental health experiences.
"However, we know from our research that the experience is insufficient to prepare women for motherhood and childbirth. So, we leverage technology because we know that women can access classes weekly by using technology. They can also connect with a group of pregnant women and share symptoms and experiences," Olawoye reveals.
How sustainable is Babymigo?
The company generates revenue from its offerings, including MamaCare and PreggClass. 
"Because we work with over 120 hospitals, the cost of MamaCare varies depending on several factors, including the type of hospital the mother prefers (luxurious or not), her plans to have a vaginal or caesarean section, and whether the delivery is a single or multiple-birth delivery," Olawoye explains.
Depending on their choices, mothers can make a one-time payment as little as ₦100,000 ($217.16) or higher to access this service.
According to Babymigo, the cost covers antenatal care, delivery, and hospitalisation during and after delivery, particularly for mothers who have C-sections. It also includes baby care and immunisations until the child is one year old. 
The monthly rate for PreggClass programmes is between ₦1,000 ($2.17) and ₦2,000 ($4.34) and runs from the time the women conceive until two to four weeks postpartum.
It also generates revenue from advertising. 
Per the company, it has received funding from notable companies, including Facebook and Google. 
In 2018, it was part of Google's Africa Launchpad Accelerator platform and one of the recipients of the Google Black Founders Fund 2021. 
It has received several awards, including the GIST Outstanding Women Entrepreneur award and the AXA FemTech Accelerator Program.
Since its launch, Babymigo says it has reached over one million parents and has over 200,000 users. 
The company intends to broaden its reach to more moms as part of its expansion strategy. It's also looking to develop and launch additional mom-support services even as it plans to expand its reach to Ghana and Kenya in 2023.
Babymigo wants to reach remote areas by launching a USSD service, making its platform and solution more accessible to rural women.